Twin Baby Shower Gifts: Ideas for Twin Boys & Girls
If you're looking for twin baby shower gifts, you may be asking yourself what to buy, and whether or not you should give one gift per child. If you can afford it, a gift for each baby is nice. It signals that you consider the children as individuals, and that you are sensitive to the fact that the cost of raising twins is higher than raising one child. If it's too expensive for you to spend double the amount on twin baby shower gifts, consider buying something for the mom-to-be. It could for instance be a twin nursing pillow, books about having twins or twin baby memory books.
What about the twin baby shower registry?
It's good etiquette to ask whether or not there is a registry, and to take a look at it before you buy gifts. You don't necessarily need to go with it, if you have a great idea of you own, but the family usually puts a lot of time and thought into the registry. Take a peek at it to find out if there's something they really seem to need.
Twin baby shower gifts for twin boy and girl
Twin Gift Basket
This cute gift basket for twins include two teddy bears,  a soft blue blanket and a soft pink blanket, a blue and a pink baby bottle, a blue and a pink bootie set, a blue and a pink baby cap, a blue and a pink embroidered bib, two brush and comb sets and a blue and a pink baby picture frame.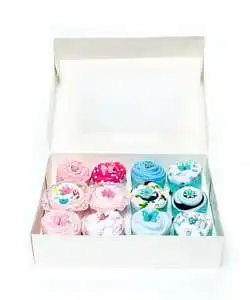 Twin Clothing Cupcakes
These cute clothing cupcakes are the perfect twin baby shower gift. It comes with six short sleeved bodysuits, four pairs of socks, four pairs of mitts, two bibs and two muslin squares. You can choose different colors making it a good choice for boy-boy and girl-boy twins as well. It's available in pink, blue, white or pink and blue mixed.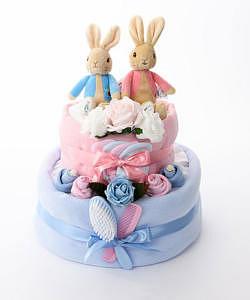 Twin Diaper Cake
This diaper cake is available in pink, blue and neutral colors, in a range of animal themes. It's made of Pampers size 2 diapers and inside you find two baby's first piggy banks. There's also one fleece baby shawl, three muslin cloths, two pairs of mittens, two pairs of socks, two baby's first brush & comb sets and two zebra soft toys with built in rattles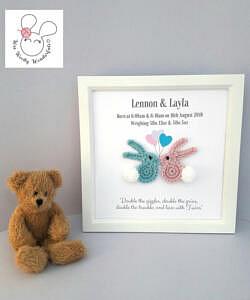 Personalized twin gift frame
This frame for twins can be personalized with the names, birth dates and times, weights or other wording. You can choose between 2 handmade crochet pink or blue bunnies or elephants – or one of each. It's a white wood deep box frame. It's large, to accommodate the 2 bunnies or elephants, and has a 20 x 20 cm printed centre. It's approximately 24 x 24 cm from the outside frame edge to edge. The frame is around 3.5 cm deep, and has a hook for hanging onto a wall on the back. It's possible to request other colors for the frame design as well. The frame arrives in a white gift box, wrapped in tissue paper and a ribbon.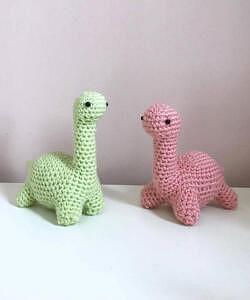 Crochet dinosaurs
These dinosaurs are made of 100 percent acrylic wool, and the filling is made of non-allergenic polyester fibres. They are appropriately 14 cm tall and width is appropriately 11 cm.
You can purchase two green dinosaurs, two pink dinosaurs or one pink and one green dinosaur. They also come in blue & green.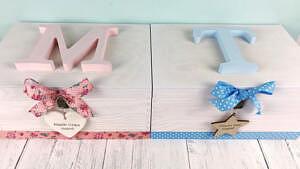 Twin memory boxes
These wooden memory boxes with ceramic hearts or wooden star tags are perfect for twins. There are two sizes available, and colors and decor can customized.
Twin Bibs
These bibs are made of 100 percent cotton and has a velcro closure. They come in black, blue, pink and white and can be mixed and matched as preferred. You can also change the writing so it fits boy-boy twins or girl-girl twins.
Twin girl baby shower gifts
Gift Basket
This adorable gift basket is perfect for twin girls. It includes two teddy bears, two baby blankets, two baby bottles, two bootie sets, two baby caps, two embroidered bibs,  two brush & comb sets and two baby picture frames. You can also get it for girl-boy twins.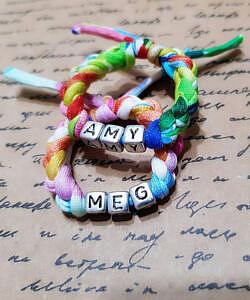 Personalized twin bracelets
You can design these twin bracelets by choosing color, name or initials. The bracelets are handmade from 100 percent cotton thread. They come in sizes for babies, toddlers, kids and adults. The width of the bracelet depends on the size you choose and ranges from 1 to 1,5 cm. See more examples of bracelets for boy-boy twins and twin girls as well as triplets. The bracelets come packed in a organza gift bag with a handcrafted card.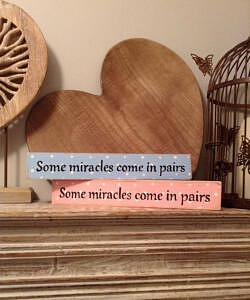 Wooden sign for twins
These signs come in blue, pink and many other different colors. They're perfect for the arrival of twins. The wood for these signs is hand cut, the signs are then given 2 coats of paint and then lightly sanded back to achieve the rustic, vintage style finish.
The signs in the picture measure approximately 4 cm high and are approximately 30 cm long. Custom orders are possible if you'd like a different size.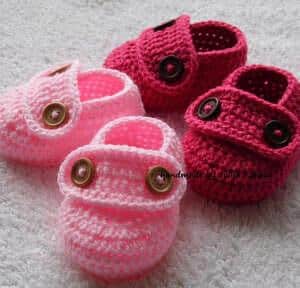 Twin baby shoes
These handmade crochet baby shoes for twins are with wooden buttons. They come in three sizes, baby newborn, 0 to 3 months and 3 to 6 months. You can choose different sizes if one twin is smaller than the other. The shoes are made of 100 percent acrylic. You can get them in different colors for instance black & green, brown & green, green & gray and black & beige. The shoes can be hand washed at 30 degrees.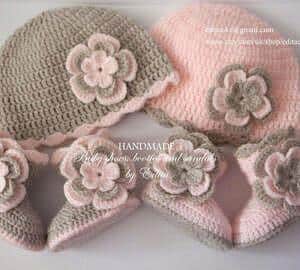 Crochet set for twins
This handmade crochet baby set for twin girls come with 2 baby shoes and 2 baby beanies. They're made from acrylic yarn.
They come in sizes 0-3 months and 3-6 months. Shoes and beanies need to be hand washed in cool water.
Twin boy baby shower gifts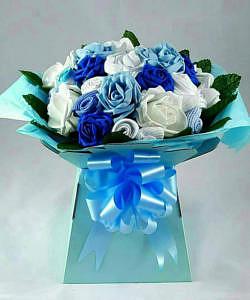 Twin Clothing Flower Bouquet
This baby shower gift is perfect for twins because the clothing come in pairs. It contains two bodysuits, four pairs of socks, two muslin cloths, two bibs and a greeting card. It comes gift-wrapped in cellophane with a bow. You can buy the bouquet in different colors, so it's also a great gift for girl-girl or boy-girl twins.
2-Set Of Bibs
These bibs can be washed in the sink or in the dishwasher. They are made of 100 percent food grade silicone and are BPA free.