Zoe in Double Trouble: For Twins & Siblings of Twins
When & why did you decide to write "Zoe in Double Trouble?"
"There I was walking my baby twin daughters in my double stroller with my puppy Zoe walking alongside us. Zoe was my first fur baby. She was a princess pup who had a hard time adjusting to her new twin baby sisters. In my first year as a twin mom, I kept hearing people saying "oh you're in double trouble," and I thought of something magical to share with all of you… I decided to write "Zoe in Double Trouble" in my first year with twins. God put a dream in my heart to publish this book and have it ready by the time my twins, Hailey and Matilda, were 5 years old. All in God's glory, "Zoe in Double Trouble" is a #1 Best-Selling children's picture book that has brought many smiles and love to many families all over the world!"
What's the purpose of the book?
"Zoe is the princess pup until… everything changes when she finds 2 babies have arrived home from the hospital! Even through double the goop and double the poop, you can find out how Zoe discovers double the love with her sister twins! "Zoe in Double Trouble" helps twins and siblings of twins have a positive perspective that even through all of the messes, they still bring love to the world. Any time twins hear double trouble, I hope their hearts know they are double the love. Zoe can help them discover how love is unconditional for moms, dads, siblings, and families in this sweet silly tale."
What's your background?
"I am so thankful for all of the love and creativity my twins plus one have brought into my life. My twins, Hailey and Matilda, came along 5 years ago as 2 little miracles delivered into my life from up above at just the right time. They changed my body, my hair, and most importantly my heart… and all for the better! When I had my son, I fell in love all over again. I decided to take time to be a stay at home mom, and I have learned so much more about motherhood, family, early education, and taken time to grow closer to Jesus too. It's been a blessing to become a #1 best-selling children's author with my first book about twins, "Zoe in Double Trouble." I am a mom and wife first, and I love having a family. I'm always happy to share real parenting experiences that help uplift families, so they know they are not alone. I have always loved working with children and writing since I was a little girl, as well. I'm blessed to have earned a Master's Degree in Education, and love uplifting children with reading and creativity. It's a joy to help kids discover their unique gifts and understand their emotions as they grow. You'll see that come through in my illustrations of all of Zoe's emotions in "Zoe in Double Trouble."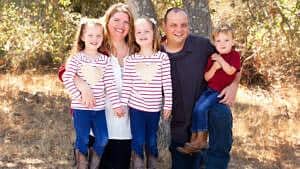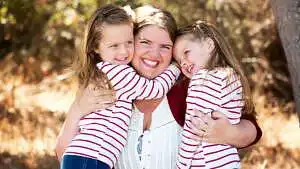 Do you have more books about twins on the way?
"I am always writing, so stay tuned for more family fun books for twins with our Twin Momspiration Newsletter at yourtwinmom! It's so much fun to spread faith and love, while connecting with other families of multiples on Instagram, Facebook and Pinterest.