Best Twin Diaper Bags and Backpacks
There are several things to consider when looking for the best twin diaper bags or backpacks. How much stuff do you need to carry? Do you need to be hands-free or is another option a better fit for you? Have a look at our twin diaper bag and backpack reviews and find out how to pick the twin changing back that suits your needs the best. We'll continuously add more bags and backpacks.
Which twin diaper bag should I choose?
The best twin diaper bag choice for you depends on how you anticipate you'll use your new bag. A duffle bag type might be right for you if you often go on weekend trips and need a lot of space. A backpack will be a better choice if you have older children and need to have two free hands.
Best twin diaper bags and backpacks
TWiiN GEAR Diaper Duffle Bag
This extra large changing bag is one of the biggest
twin diaper bags on the market.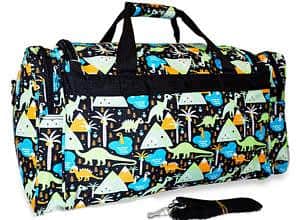 It's approximately 19″ long, 10.5″ high and 9.5″ deep.
You can fit an entire weekend worth of twin gear in it.
The twin changing bag is made of heavy duty 600 denier polyester, and it's got double handles with 10″ drop.
It has a removable shoulder strap as well.
There are many different compartments with zip closures. The twin diaper bag has studs at the bottom of the bag protecting it when you put it down. It comes in several different prints.
You also get a smaller bag, a tote and a changing pad with it.
Read more feedback from one of our twin moms.
Large Unisex Diaper Bag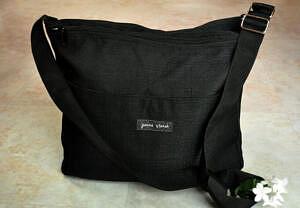 This large unisex twin diaper bag is perfect for both mom and dad. You carry it cross-body or on your shoulder – an excellent choice for twin moms or dads who needs to be hands-free.
The bag is 15 inches (38 cm) wide, 13.5 inches (34.25 cm) tall and 4.5 inches (11.5 cm) deep. The adjustable strap is 26-49 inches (66-124.5 cm) long.
The bag is made of sturdy black linen blend fabric with animal print lining. There are three large separate sections which fasten with zippers and a magnetic snap,
and one smaller section in the back.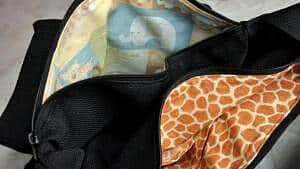 The bag has six inside pockets, two large pockets and a small zipper pocket. It needs to be spot or dry cleaned.
The bag comes in the colors black, grey and blue.
The twin diaper bag by Joanna Stanek is designed
and made in the USA. The bags are individually and
carefully hand-crafted. Read more about the designer.
The store accepts returns, exchanges and cancellations.
Read more feedback from one of our twin moms.
Best Selling Twin Diaper Bag Backpack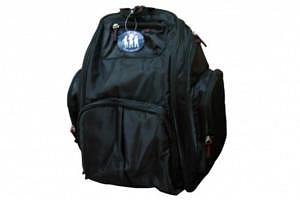 This twin diaper bag backpack by Three Little Imps is their bestselling backpack. It comes in a unisex black, and the padded adjustable straps makes it perfect for both mom and dad. The interior of the bag and the changing mat is red.
The twin changing bag comes with a six month guarantee that protects you if you have issues with straps, zips or the material. The bag is 31.5cm long x 19.5cm wide x 42cm high. It's got a lot of different sized zip and mesh slip pockets. It has two insulated bottle side pockets as well as a side slip insulated pocket.
The twin diaper bag backpack has a tag handle and
ventilated mesh on the side against your back.
Large Premium Unisex Twin Diaper Bag Backpack
This new premium twin diaper bag backpack by Three
Little Imps is an improved version of their best selling
backpack.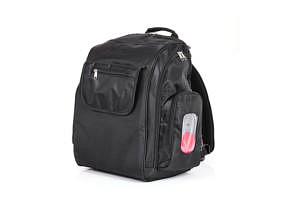 Basically it's a tougher and more robust
version of their original model.
The twin changing bag has got a soft padded mesh
backing and wider softer shoulder straps. It has a
robust top handle and metal base studs at the bottom
protecting it when you put the bag down.
It has a large capacity. The length of the bag is
approximately 45 cm. and the width is 35 cm.
It's approximately 20 cm. deep. It's got several
pockets of which two are insulated bottle pockets.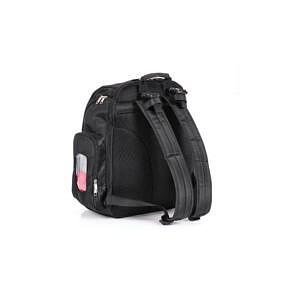 One is a side pocket and the other insulated pocket
is separate so you can take it off and hang it off
a stroller. The other side pocket comes with a hard
wipes case. You need to zip some of the pockets,
others are closed with velcro.
It comes in a matte black color that makes it a good
choice for twin dads as well. It comes with a white
foldable changing mat and a cute note book and pen.