Author Launches New Twin Clothing brand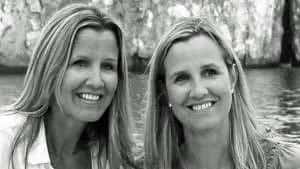 The Multiples Manual: Preparing and Caring for Twins or Triplets
Double Time: A Helpful Book of Schedule Keeping for Twins
Double Doses -Twins Medical Diary
2 Pack – Twice Upon A Time: Twins Memory Books
Triple Time – Triplets Daily Schedule Book
What inspired you to write about twins & triplets?
"My identical twin sister (left in the picture) inspired me to write my first book, The Multiples Manual. She has written a few books about working in the pharmaceutical industry, and as soon as her first book was published, I thought, "If my twin can write a book, I can write a book!" Since I am a twin and also a mother of triplets, I always had answers whenever parents of multiples asked me for advice. So, writing a book only made sense. After publishing my first book, I got hooked and kept writing and creating products for families with twins and triplets. It's hard to believe I started my business – www.justmultiples.com – more than 15 years ago. It's become a very rewarding experience that all began by mimicking my twin."
What's your background?
"I have always considered myself to be a "creative accountant" (but not because I have a knack for evading taxes! LOL). Although I have a degree in accounting, I've always wondered what my life would be like if I had gone to art school. I have been known as the "creative twin" my entire life due to my artistic abilities and love of art. After working for Johnson & Johnson for several years in their Corporate Tax Department, I decided to combine my business skills with my passion for art, when I began my online business."
Who are the main target groups for your books?
"My books have been written for expectant and new parents of twins and triplets. My intent was to help make the day-to-day challenges with multiples easier. I also created a set of memory book for twins, which was a blast, because I was able to include everything in the books that was lacking in my own memory book. Helping other moms has been one of my greatest joys in life."
Do you have more books about twins/triplets on the way?
"I am not writing anything at the moment, but I am very busy. After two years of working with illustrators in the UK and clothing designers in NYC, I just launched Twoborn."
What is Twoborn?
"Twoborn is a new clothing brand designed exclusively for twins.The clothing is unique in that it allows twins to share their special bond as well as celebrate their individuality – it's coordinated, but not too matchy-matchy. This is something I have been passionate about for a long time, and began working on as soon as my kids went off to college."