Twin Sling: UCHI DUO Twin Water Sling Review
The UCHI DUO Twin Water Sling consists of two slings and one pair of rings. It's gathered around your shoulders, and you carry your twins in front of you or on your hips. It's available in one color or in mix and match colors. If you contact the shop, they'll let you know which colors are available. You can inquire about different color rings as well. The twin sling is available in one length, approximately 72 inches long (182 cm) by 26-27 inches (66-68 cm) wide. You can use the twin sling for babies from 8 to 35 lbs (3.5 to 15 kg) in water. Out of water you can use the twin sling for babies up to 26 lbs (11.5 kg).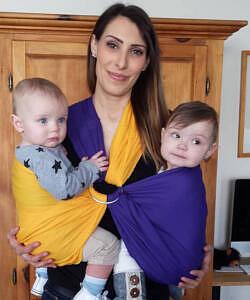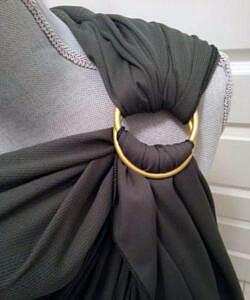 How do I use the UCHI DUO Twin Water Sling?
The twin water sling can be used for either one child or twins. You carry your twins in front of you or on your hips. The company doesn't recommend back carriers for twins. It can be a bit tricky to assemble the twin sling correctly, so make sure to read the UCHI DUO Twin Water Sling instructions. It's important to make sure that you carry your babies in the most optimal way.
What's the UCHI DUO Twin Water Sling made of?
The twin sling is made of italian mesh jersey, polyester and aluminum rings. It has 15 SPF protection. The fabrics haven't been chemically altered to offer sunscreen. The manufacturer can make it out of other fabrics too for an additional cost. Those could be linen, blends, cotton and light wraps. The manufacturer is a member of the Baby Carrier Industry Alliance (BCIA) and is Canada Consumer Product Safety Act (CCPSA) compliant. The twin sling comes with instructions, links, a product registration form and a BCIA safety brochure.
How much does the UCHI DUO Twin Water Sling cost?
The UCHI DUO Twin Water Sling costs $145. That's about 115 British Pounds, depending on the currency rates. Because the twin sling is a custom made item, it's not returnable or refundable.
UCHI DUO Twin Water Sling Review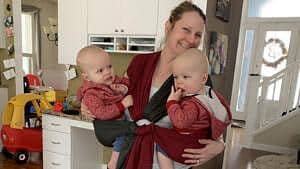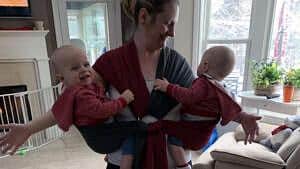 Name: Mande Byrne
Twins: Identical boys, 14 months
Nice Features:
Stretchy, water friendly fabric. The material of this carrier is nothing like I've seen before. Usually these type of carriers are more of a cotton fabric where this is more of a thick/meshy fabric. As a result, not only can you wear this around for everyday use, but you can wear this in water. IN WATER! Living in a beach destination, this is incredible. This will prove to be a must have summer accessory for twin mamas!
Vibrant fabric color. This fabric seems like it'll withstand its fair share of washes where the standard cotton fabric carriers lose their luster after a few washes.
Breathable fabric. This fabric, as I've mentioned, is stretchy and thick mesh BUT it breathes! The standard cotton type of carriers made this mama sweat it out during those hot summer days carrying only a singleton! This will be a great add to our summer lineup.
Fits a WIDE variety of sizes! This type of carrier fits a wide variety of baby sizes and mamma & daddy sizes too!
I did need help getting the boys in the carrier but they are also older and move a lot more. Younger babies would likely be able to be placed into the carrier by one person.
Overall the carrier was very comfortable for the wearer (mom & dad!), and the boys seemed to like it as well.
This wrap came with instructions that had detailed pictures and, though I failed the first couple of tries getting it on, when I actually read the instructions, I was able to get the wrap on comfortably and easily. Read the instructions, kids!! The forgiving fabric of this wrap allows for easy on, easy baby positioning and allows for easy adjustments. There are even YouTube videos helping through how to get the carrier optimally situated.
What's your rating for the UCHI DUO Twin Water Sling?
Ergonomics:   





Safety:             





Adjustability: