Photo Frames for Twins: Where to Buy the Perfect Frame for Your Pictures
There are many cute photo frames for twins to choose from. Some have been graphically designed for specific twin themes like "two peas in a pod." You can also get personalized picture frames where you add the names of your twins. Some picture frames have poems, quotes or a rhyme printed or carved on them. If you perfer something that's more basic, that's possible too. We sometimes give away photo frames for twins in our contests – sign up for our newsletter and be notified when we launch new contests.
Personalized picture frames for twins
Collage Picture Frames
You can add more picture frames to this design so you get room for 2-5 photos. The frames come in many different designs and sizes. They are made of silver aluminium. In this picture you have 2 photos of 4 x 6 inches (10 x 15 cm) each. They can be free standing or mounted on the wall. The overall frame dimensions are 10 x 7 inches (25 x 17 cm). The back of the frame is covered in a black velvet.
[button link="https://www.amazon.com/gp/product/B005980TTA/ref=as_li_tl?ie=UTF8&camp=1789&creative=9325&creativeASIN=B005980TTA&linkCode=as2&tag=abouttwins05-20&linkId=fe25b07386a87447e212399e6ef4b0cc" color="" size="medium" target="_self" style="standard" rel="nofollow" ]Go to Store[/button]
Quote & Names Photo Frame

You can add your twins names to this cute frame. The size of the frame is 8″x10″ and it holds a 4 "x 6" photo. It comes in an ivory marble frame. You can get a cherry frame as well, and you can also get it in the colors pink, blue and black. The quote says: "Two little blessings sent from above, twice the smiles and twice the love."

Personalized twin baby photo frame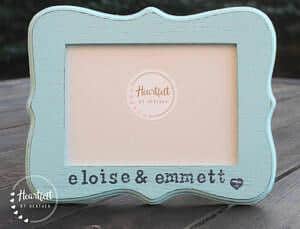 This 5×7″ scalloped custom picture frame comes in 30 different colors. It can be personalized with the names of your twins. You can choose to embellish it with flowers or bows. It's hand-painted using high-quality paint.

Scan picture photo frame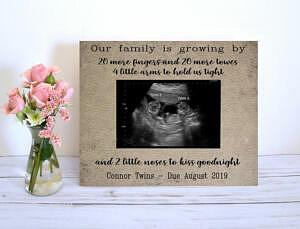 All picture frames are decorated with patterned paper on top and sealed for permanent protection. They are not painted. They can stand on a desk or be mounted on the wall. There are 16 different designs to choose from. The frames can hold 4 x 6 and 5 x 7 photo sizes. The text or quote can be customized and comes in black text only.
Photo frames for twins with a theme
Two Peas in a Pod Twins Frame

This ceramic and metal photo frame is perfect for twins. It measures 7 5/8″ x 3 5/8″ and holds two 2″ x 2″ photos. The frame comes boxed in a decorative "Love Times Two" gift box. It also comes with felt backing and glass inserts.

Two Elephants Photo Frame
This cute picture frame has an elephant theme and comes with a rhyme: "More than one… is just more fun." The photo frame can stand on a desk or be mounted on the wall. It has room for one 4″ x 6″ photograph.
Photo frames for twins with a poem
2 Babies Love Frame

This classic 4×6 double white tabletop frame has space for a 4×6 photograph. The poem says: "2 babies created and carried with love, a family twice blessed from above. 2 babies born to waiting hearts, both loved so deeply from the start. 2 babies smile to let the world see, how special their bond will always be. 2 babies grow as siblings and friends, a bond of love that never ends."

Twice the Smiles Wooden Frame
This photo frame for twins is designed in natural wood. The poem is carved into the frame. The picture frame measures: 7 1/2″ x 9 1/2″ and holds a 5″ x 7″ photo. It has a glass front and a back stand easel. It also comes with wall-hanging clips. All frames are hand-crafted. The poem says: "Twice the smile, twice the love, twice the blessings from above."
Twin Hearts Photo Frame
This frame can go on the wall or be placed on a desk. There's room for two 3×3 photographs of the babies. The first verse of the poem sounds: "Awed to be expecting twins, A mother's journey now begins. Blessed with heaven's gift of two, I fell in love with both of you. You can read the full poem here. It comes with two envelopes on the back of the frame so you can write the babies a note.
Photo frames for twins with a quote
Twins Star Picture Frame

This photo frame for twins come in a resin frame with the word "twins" over the photo. It has little stars on it. The dimensions are: 16 cm. (height), 19 cm. (wide) and 2 cm (depth). It can hold a 5″ x 3.5″ photograph.
Miracles Photo Frame

This picture frame for twins can stand on its own with an easel back. You can choose between a black or a wooden frame. It's designed for a 4"H x 6"W photo.
Twice Blessed Photo Frame

This picture frame can stand and has a triangle hanger for mounting on the wall as well. It holds 4″ x 6″ photos and the frame measures 8″ x 7″. It's made of ceramic, metal and glass.